Stagette Party Packages
VIP NIGHTLIFE
Hosted VIP Entry
Limo Transportation
Bottle Service at Nightclub
All Inclusive
24 HOUR PARTY
VIP Suite
Hosted VIP Entries
Limo Transportation
Reserved Cabana at Beachclub
Bottle Service at Nightclub
VIP Entry to a Strip Club
BACHELORETTE PARTY PACKAGE
Hosted VIP Entry
Limo Transportation
Reserved Cabana at Beachclub
Pole Dance
Dinner: Unlimited Tapas & Shangria
Male revue preferred tickets
VIp Entry to a top nightclub
---
Las Vegas Stagette Weekend
Popular tradition in the United States is that the bachelorette party is the party held for the bride the night before the wedding. Over time, minor changes have been made to the tradition and the methods of celebrating the occasion have gotten slightly wilder. Traditional bachelorette parties can include anything ranging from a simple dinner at a fancy restaurant to a wild night at the bride-to-be's favorite club along with a bachelorette party show like Chippendales in Las Vegas. Since the party occurs the night before, the bride must to her best to not drink herself into submission and risk coherency for the wedding the day after. Unlike the bachelor party, there is little difference in how the bachelorette party (or stagette party) is handled outside of the country.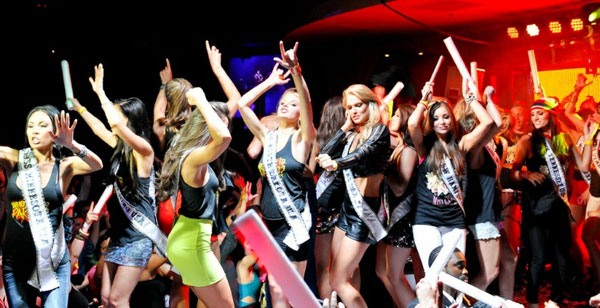 Historically, the stag party superseded the creation of the stagette party, which eventually came around to give the bride a celebration of her own while the groom was too busy going out and being honored. At its creation, the bachelorette party was a symbolism of sexual freedom for the bride and it quickly turned into a party that very much so mirrored the debauchery of the stag party. The most common elements of a stagette party include drinking and sharing intimate secrets, sometimes even going so far as to including taboo intimate moments.
In the United States, there are few places that reek of being the perfect location for a stagette party as Las Vegas, NV. The cities openness to strip clubs, bars, nightclubs, and an overall party atmosphere creates the perfect tone for a final night of single partying for the bride-to-be. Since the entire night is supposed to revolve around a wild night, strippers and alcohol have come to be two staples of the bachelorette party. With overseas airfare growing into more reasonable pricing, bachelorette parties can also be held in countries known for their partying like Amsterdam.
Since women tend to be a bit more eclectic in the things they enjoy, the stagette party can take on many different forms. If the bride-to-be is far from being a partier, the event can take on some form of mild theme. For instance, as the party may be the day before the wedding, the stressed out bride could probably use a day of pampering at a spa. Other party ideas can include a lighthearted night of cooking classes or even just an evening at home with silly bridal games. A wilder individual may enjoy something along the lines of a Stripper 101 class, which tries to teach a group of "students" how to move like the best strippers on stage.
Though the bachelor party may have come first, women have quite easily matched (if not exceeded) the events of the groom's night out. As the night is typically the bride's last night of the single life, sexual freedom is the typical undertone of the night.
---