VIP Packages
VIP NIGHTLIFE
Hosted VIP Entry
Limo Transportation
Bottle Service at Nightclub
All Inclusive
BACHELOR PARTY PACKAGE
Hosted VIP Entry
Limo Transportation
Reserved Cabana at Beachclub
Dinner: Set menu & 2hr unlimited beer
Bottle Service at After Hours
BACHELORETTE PARTY PACKAGE
Hosted VIP Entry
Limo Transportation
Reserved Cabana at Beachclub
Pole Dance
Dinner: Unlimited Tapas & Shangria
Male revue preferred tickets
VIp Entry to a top nightclub
---
Las Vegas New Year's Eve
Last year, you sat home alone snacking on a large array of junk food while Dick Clarke and other celebrities counted down to that inevitable time when you'll just flick off the TV and go to bed. This year, though, you vow to not be that sorry sap that's stuck spending such a joyous occasion alone. When you start your hunt for the perfect New Years Eve, you're bound to hit a roadblock or two, mostly in the form of indecisiveness. What you're bound to find out this year that you apparently didn't know last year is that Las Vegas has no shortage of ways to ring in the New Year.
At the heart of it, Las Vegas New Years Eve is a night-time event. Despite the fact that most of the party's don't start until after dusk, there's absolutely no reason not to start celebrating during the day. Due to the enormous crowd that this holiday brings into the city, you're going to find that getting into anywhere without a reservation is going to either be near impossible or require a long wait. For this reason, you're going to need to plan and decide months ahead of time where you want to spend your day and evening.
If you attend nightclubs on any normal weekend, you may be surprised to find that these clubs futz with their pricing quite a bit for the holiday. What may normally be a small price to pay for a good time may suddenly turn into an internal debate as to whether dancing amongst some gorgeous ladies is worth an arm and a leg. Even though you'll debate this for a moment, once your mind flutters back to that lonely night last year, you'll be pulling out hundreds like there is no tomorrow.
The most important thing to consider in Las Vegas New Year's eve when you're looking to shell out a bunch of cash is the location. Though things like the venue's amenities and cleanliness are important to consider, you also want to make sure you can experience everything you're looking for. If you're somebody who's fine with simply dancing the night away until the ball drops, then you should have no problem finding a club to fit your needs. However, seeing as how you are paying extra just because it's a holiday, you'll want to get the most out of your experience that you can.
Throughout Sin City, there are several clubs that offer a bird's eye view of the Las Vegas New Year's evening events. Outside of being the perfect opportunity to catch a glimpse of the action going on along Las Vegas Boulevard, nightclubs that offer a view beyond their own four walls will give you the perfect opportunity to enjoy the annual fireworks show that comes with the turning of the clock. One of the best views of the outside events actually comes from a hotel set about five minutes off of the Las Vegas Strip. Set at the 51st floor of the Rio Hotel and Casino is the Voodoo Lounge, a rooftop club with an unparalleled view of the nearby stretch of hotels. Once the clock strikes midnight, expect to be wowed by the unbelievable view you'll be starting your new year with.
The key to having a successful New Years Eve night in Vegas is to plan ahead. Much like the area of Times Square in New York City, Las Vegas fills up with tourists rather quickly, some even making their reservations a year in advance. Be sure to pick a club with a view – one like the Rio's Voodoo Loung or the Palm's Moon – to ensure the best experience going into the Las Vegas New Year.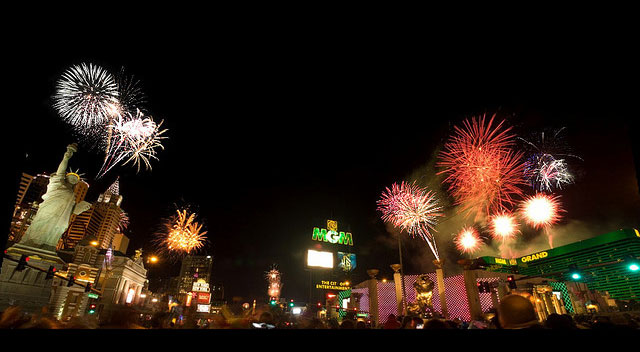 1 OAK Nightclub at Mirage
1 OAK Nightclub will present multi-talented singer-songwriter, fashion designer and GRAMMY® award winning artist, Fergie! The Duchess herself has been enlisted to host a glamorous, blow-out New Year's Eve bash, including a special countdown to 2012. Be among the first V.I.P. guests to experience 1 OAK Las Vegas, its intimate atmosphere and New York City vibe, the exclusive artwork by famed artist, Roy Nachum, as well as 1 OAK Las Vegas' state-of-the-art lighting and sound systems. Partygoers will dance to the beats of New York Native, DJ Jesse Marco, and toast as you ring in the New Year. VIP Access with champagne toast: $150/person. Doors open at 10:00pm.
The Bank Nightclub at Bellagio
The Light Group will host an intimate, upscale and unforgettable evening at its lavish and exclusive nightlife destination, The Bank Nightclub at Bellagio. Soulful and sultry, GRAMMY® award winning singer and music producer, Bruno Mars, along with his 9-piece band, will curate an extraordinary set, including his chart-topping hits while mixing in some classic covers in a very special jam session. Unlike anything he has done before, Mars will act as the house band at The Bank's star-studded, champagne-filled New Year's Eve affair. VIP Access with champagne toast: $150/person. Doors open at 10:00pm.
The Beatles Revolution Lounge at Mirage
Multi-Platinum (3x), singer, songwriter and rapper IYAZ will host the New Year's Eve Countdown and perform his #1 hits live at the intimate Beatles Revolution Lounge! The 23-year-old artist will be performing songs including "Replay", "Solo", and "Pretty Girls". Your ticket includes a two-hour hosted bar. The best and most intimate New Year's party in town is at The Beatles Revolution Lounge. VIP Entrance and Hosted Bar from 9pm-11pm: $75/person. Doors open at 9:00pm.
Yellowtail Japanese Restaurant & Lounge at Bellagio
provides a luxurious setting paired with unique Japanese cuisine. For the quintessential experience, Yellowtail Japanese Restaurant & Lounge offers unparalleled views of the famed Fountains of Bellagio and Las Vegas Strip fireworks display. This New Year's Eve, spend the evening enjoying Chef Akira Back's individually prepared Seven-course Omakase Menu. Omakase Menu Reservations available between 5:00pm and 11:00pm: $350/person. A la carte Dining Reservations available between 5:00pm and 11:00pm.
STACK Restaurant & Bar at Mirage
STACK Restaurant & Bar in The Mirage offers tantalizing American cuisine in an upscale, contemporary, energetic atmosphere. At STACK, enjoy celebrating the New Year in style! Create Your Own Unique 4 Course Gala Menu From Our Grand Selection! Gala Menu Reservations available between 5:00pm and 11:30pm: $150/person.
UNION Restaurant & Lounge at Aria (this one is good)
UNION Restaurant & Lounge at ARIA entices, with its contemporary American culinary creations. Perfectly situated overlooking ARIA's casino floor, Union's New Year's Eve specialty menu & party vibe are all you need to usher in 2012! Count on our electrifying DJ to keep you celebrating in style! Create your own unique 4 Course Gala menu from our grand selection! Gala Menu Reservations available between 5:00pm and 11:30pm: $150/person.
Surrender Nightclub
Many of our guests will want to ring in the New Year at Surrender Nightclub at Encore, The Strip's most coveted place to be this New Year's Eve. Each of our VIP bungalows and cabanas offer private balconies, perfect for overlooking the festivities taking place on the world famous Las Vegas Strip.
Doors open at 9 p.m., sponsored open bar from 9 p.m. to 11 p.m.
VIP Admission: $100 for ladies, $150 for gentlemen
Price includes tickets, listed bottles, taxes and fees.
*Additional bottles can be purchased at menu price
Society Café Dinner Packages
From 5 p.m. To 11 p.m. our guests can enjoy a set menu at Society Cafe, as well as complimentary admission to celebrate the New Year at either Blush or Surrender.
Surrender: $161 Women/$211 Men
Not inclusive of tax or gratuity
---